Dortmund recently had the first friendly match in preparation for the new season, met opponents from league Austria Altach. Notably, in their squad in this game called Sancho, the star is making European press these days hunted with transfer rumors related to MU. Sancho alongside a host of bright young players of Dortmund, including Jude Bellingham, Erling Haaland or Giovanni Reyna.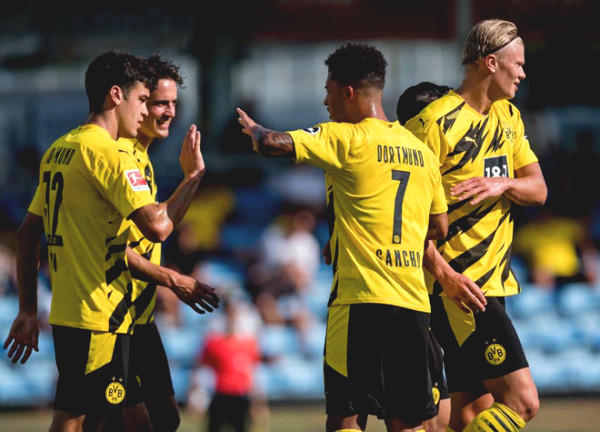 Sancho (7) celebrate with teammates
With a formidable force, Dortmund immediately seize the initiative. After 14 minutes, Bellingham Casar then stole the ball in the foot ball player Haaland to this "indirect" Reyna flipped the ball gently help open the scoring. Arrive 36 minutes, shooting Haaland successful implementation 11m doubling effect, after he was fouled Kobras goalkeeper in the penalty area.
Before the 1st half ended, Haaland could have yourself a brace with a close-range finish after a dazzling power to release the subtle shading of Sancho, derived from sugar tectonic left side of Bellingham.
Ball in half 2 does stand out when Altach are still the team scapegoat. After 75 minutes, a broad thorgan hazard deft pass Kobras goalkeeper in a situation to face, but was fouled. On point 11, the younger brother of Eden Hazard successful implementation helps Dortmund 4-0.
The remaining minutes, Dortmund play leisurely but still add another 2 goals by Julian Brandt's Emre Can and after situations finish coordination and collective reach into rock.
Sancho only played 45 minutes and made the 1st half position for Julian Brandt in half 2. Share after the match, the young British star said: "I like the way this collective play. A special group. Team are more young talents very promising. I am happy to stand with their golf and lead them, because I also used to be them. "
Final: Altach 0-6 Dortmund (half 1: 0-3)
Scored
Dortmund: Reyna 14 ', Haaland 36', 45 + 2 'Hazard 75', Can 85 ', Brandt 90'
Squad
Altach: Kobras, Netzer, Dabanli, Edokpolor, Casar, MEILINGER, Fischer, Stefel, Oum Gouet, Mischitz, Phaeton.
Dortmund: Hitz, Piszczek, Akanji, Mate Morey, Delaney, Schulz, Sancho, Pherai, Reyna, Bellingham, Haaland.