The situation takes place in the 33 minutes when the score was 1-0 in favor of Southampton, the home team enjoyed a free kick near the penalty area. Ward-prowse made an extremely dangerous kick made De Gea stunned by beating knees into the post in an effort to stop. He then had to leave the field for Dean Henderson after the first half.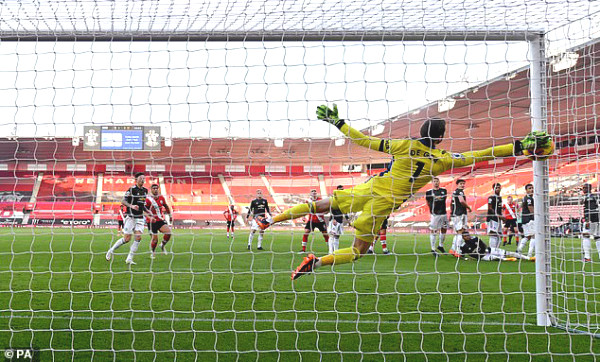 The ball leads to injury of de Gea
Sharing after the match of De Gea's injury situation, Coach Solskjaer was not too confident about the goalkeeper who could play in the PSG confrontation in the Champions League but still hope the best can happen.
He said De GEA will be taken to take a projection today (Monday, November 30) to make sure this player can go to PSG before. Information from MU said de Gea's pain is right above the knee.
If De Gea could not play, Coach Solskjaer would have to trust Henderson, who had a debut in the Premier League in the "Red Devils" shirt before Southampton. Henderson used to be mainly in MU's defeat before Istanbul Basaksehir on Turkey's land at the Champions League and 2 matches in the Federation Cup against Luton Town and Brighton.
Despite the pain in the effort to save unherose, Song De Gea was still criticized by MU is Roy Keane: "I don't expect our goalkeeper defeated in such a situation, but Ward-prowse Obviously one of Europe's best free kick players. It was a great free kick. I can't be satisfied with De Gea ".
Earlier, De Gea had reviewed the former players and commentators about criticism he had to suffer, thinking these things "lack respect". Responding soon after, Keane dragged the story of De Gea to make a lot of mistakes, thinking that this goalkeeper had to do so worthy of the great remuneration he was receiving.
Foot van de beek deformation
Although I joined MU since a few months ago, until last night the rookie midfielder Van de Beek was newly kicked by coach Ole Gunnar Solskjaer in the Premier League. The Dutch star was painful after a strong collision with an enemy player in the 15th minute in MU's attack arrangement in the left corridor.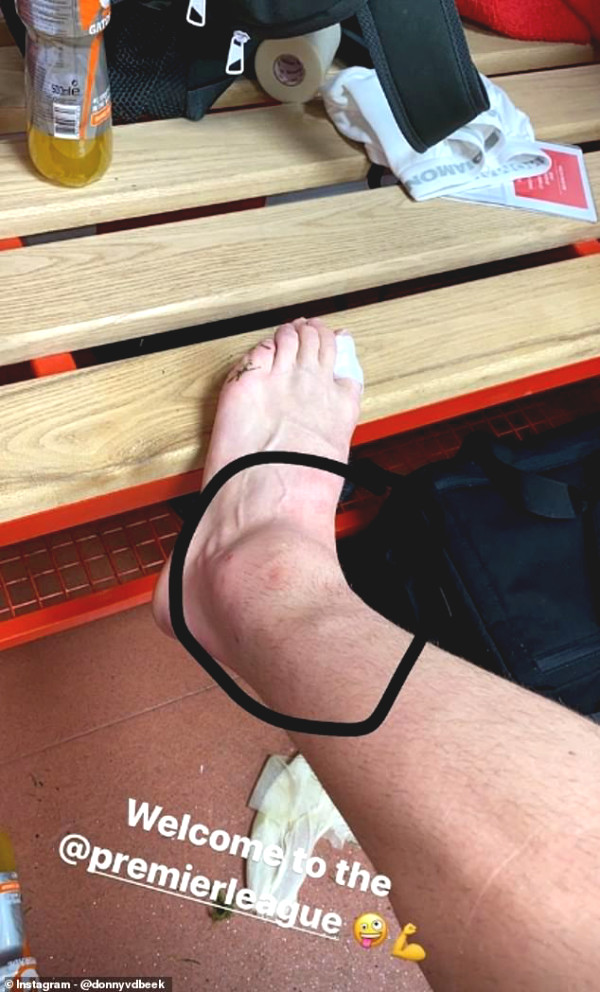 Notably, when was affected from behind, Van De Beek screamed loudly, causing many people to believe he had encountered a serious injury. But the Dutch star still stood up. Just a few seconds after being "cut firewood", he grew up very quickly to welcome Marcus Rashford's pass to make MU's shadow without breaking between.
Even so it seems that this collision has caused Van de Beek to take health losses. After the match, MU midfielder posted a photo of his deformed foot on his personal page, with a message "Welcome to the Premier League" (Welcome to the Premier League). In the photo, Van De Beek's left-handed neck swells like guava. Information from Manchester Evening News comments this midfielder may have been overturned.
Should know, this match Van de Beek plays a full 90 minutes. Stone paired with Fred as a "scanner", he faced the rich midfield against Southampton side, especially Oriol Romeu. In this match, Van De Beek and MU players several times suffer from fierce balls from Romeu.
Van de Beek performs 45 passes in this match, reaching a standard rate of 82%. Van de Beek once slipped successfully and didn't do any shot. The mark of the Dutch midfielder is shown in defensive ability, with 4 successful shiners.
Review Van de Beek's performance, former Mu Roy Keane player said: "If you look at the performance of the remaining midfielder in MU, Van de Beek deserves the opportunity. Van de Beek's energy is MU needs when clashing with uncomfortable opponents like Southampton ".
Van de Beek was hurt