Since Sir Alex Ferguson after retirement, MU has not added once stood atop the English Premiership. The best performers in the Premier League since the 2013/14 season to date was won in season 2017/18 runner. Last season, Solskjaer would only help "Reds" was third overall. So Mourinho and Solskjaer, who stand out more?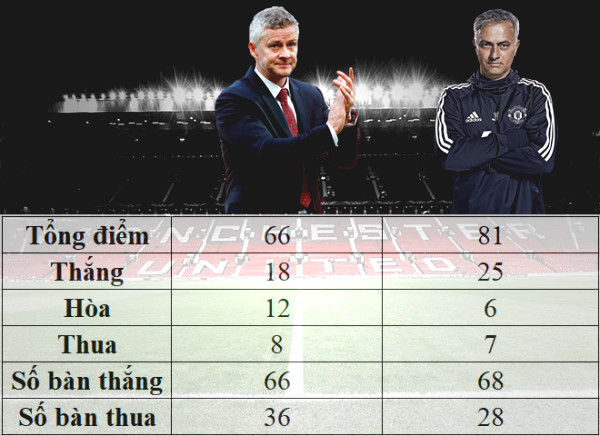 Solskjaer 2019/20 season and 2017/18 season Mourinho, who is more successful?
A vantage point for comparison, both strategists are already more than 1 season leading Manchester United. Both Solskjaer and Mourinho ended his first season with Manchester United at No. 6 with the same 66 points.
Specific achievements on the charts
The first point to be considered is the achievement of "Reds" in the Premier League standings at the end of the season. For Mourinho, in the 2017/18 season he joined Manchester United earned 81 points from 25 wins, 6 draws and 7 defeats, scoring 68 goals and conceding just 28 times.
Meanwhile, Manchester United's Solskjaer had 66 points with 18 wins, 12 draws and 8 defeats, scoring 66 goals and conceding 36 times. Clearly, these figures indicate that the MU Mourinho played better when more wins and conceding less than.
Style play
Basically, the tactical scheme of Solskjaer and Mourinho in the majority of the season time application are the same. It's 4-2-1-3 formation with a midfield striker shortly after 3 above. In the 2017/18 season, Jesse Lingard played boom in new role - "virtual strikers".
Meanwhile, MU 2019/20 season only really stand out when Bruno Fernandes joined. The Portuguese midfielder was an important link of the online help "Reds" mount. One point worth noting is the MU Mourinho to focus on wing attacks much because Lukaku in the penalty area.
Besides, Paul Pogba also regularly launching long passes decisive penalty and more intrusive. Also in the 2018/19 season, the imprint of Pogba quite tarnished by long-term injuries. Once again, the player's form is not really high, and playing in a deeper position to join the rotation ball.
Also need to add that Mourinho has built a very solid defense. This is not done when Solskjaer both MU goalkeeper and defenders often make mistakes in the 2019/20 season.
Recruit rookie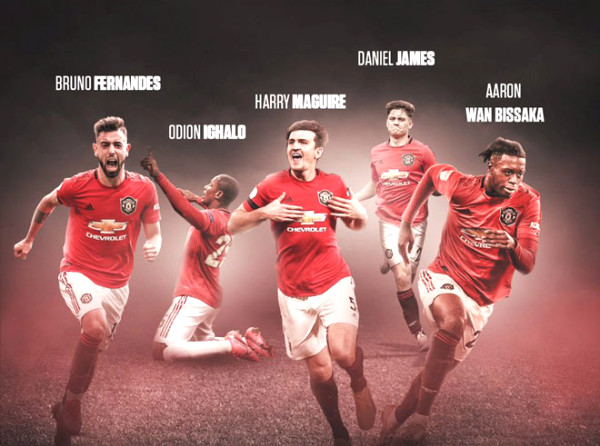 The signings of Solskjaer are very quality and fast into pillars of MU
In terms of forces, welcomed Mourinho is no less "blockbuster" in the 2017/18 season. Victor Lindelof, Nemanja Matic, Romelu Lukaku and Alexis Sánchez (winter transfer window) are the prominent names and costing up to 198.4 million euros MU.
Solskjaer is no less his predecessor while spending 214 million euros to bring back Harry Maguire 4 names, Bruno Fernandes, Aaron Wan-Bissaka and Daniel James, Odion Ighalo excluding loan fees from Shanghai Shenhua.
However, considering the effectiveness of using people, Solskjaer is marginally better. 4 "blockbuster" of Mourinho, the only Lindelof and Matic is also useful while Solskjaer turned into all 4 pillars rookie squad. Currently only Daniel James is lost or position by Greenwood too.
Relationships with players and journalists
Norwegian teacher who also appreciated than Mourinho paragraph "influencing people." If Mourinho has always had problems with a couple of teams and wing players press, by contrast, always enchant both Double Cola. Even many people believe that if not "good nature", the Norwegian teacher who was fired long ago.
However, undeniable that MU hands Solskjaer is gradually becoming a unity instead of an all-star lineup, but lacking cohesion as Mourinho. That is a plus point for his brilliant man from Norway in the development of the club long term.