The coach's first training session with the players Juventus Pirlo
Here are the questions and answers of Pirlo noteworthy in this press conference, which was Sky Sport Italia recorded.
Reporter (Reporter): He will bring Juventus anything? Is there any player possesses his same style?
Pirlo: "I want to bring back the enthusiasm was lacking in the past period. My football will be the active control of the ball, as I said to the team during practice yesterday. First: you must keep the ball. Second: if you lose the ball, they must recover quickly. New Pirlo it? The team has a lot of good players. "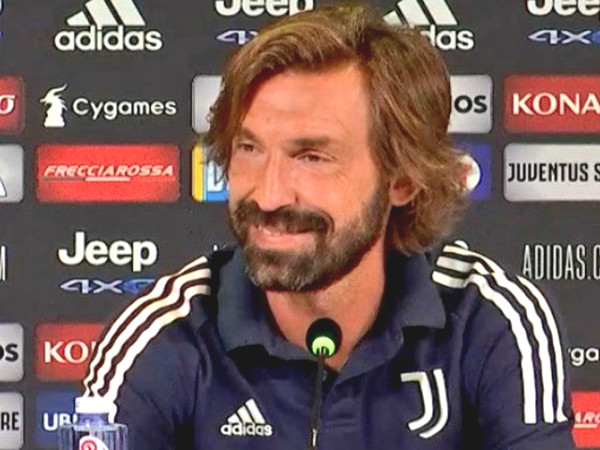 Pirlo in first press conference
Reporter: What do you think about what is happening to me at Juventus? His style tactics?
I could not think about the time switch from U23 team to the first team. It's too fast. I kept throwing himself into it alone and can not think anything. I consider himself here is the right place, right time. About tactics, everything is unclear. We can kick 3 or 4 defenders. I like the players move a lot and want to win back the ball. Spiritual element is indispensable. Players understand that the tactics may vary matches.
Reporter: his first meeting with Cristiano Ronaldo How? Does Dybala get to stay?
Ronaldo and I talked a few days ago, and on the training ground we chatted, like normal people. We will need some time to go into detail about the technical aspects and tactics. Dybala you? He was never on the list sold offline. For me he is an important player and will be a part of this project.
Reporter: What will happen when he faces former teammate and team?
I am new coach on Monday. If they have strange novelty, not at me.
Reporter: Dybala have alongside Ronaldo is not?
We are working in small groups, but I repeat: the top players can rock together as long as there is sacrifice from both sides. The more good players, more teams a chance to win.
Pirlo autograph fans
Reporter: The enthusiasm will be shown how and what are the goals?
Players must participate in training and learning new ways to play. That creates enthusiasm. The most important thing now is to chat and help them understand what they really want. Apart from the work on the training ground is the human relationship between tactics and psychology. Juventus target it? No simple victory but that is why we are here.
Reporter: Do you want to bring the spirit of Juventus th days ago?
This weekend the team will hit the road, and will have about 10 days to prepare for the national championships. We must take advantage of every moment. Conte's Juventus it? It is also achieved that ideal. It's a great team with great value. I want to bring these things back. That is the only way to achieve these goals.
Reporter: Regarding the appointment of Tudor and future of Higuain, Khedira, why?
I need an assistant with experience and position in the team, but also a former player with a personality has been confirmed on the field and in the locker room. Tudor was a such a perfect person to join my team. Higuain you? I admire him but when exchange, we come to a decision that it is time split. Khedira is injured then, will discuss later.