Pandemic Covid-19 hit hard to all aspects of the worldwide football and no exception. The league suspended and not know the exact date of return. Supposed, this time the league in Europe has almost ended for the national team to UEFA EURO 2020 preparations.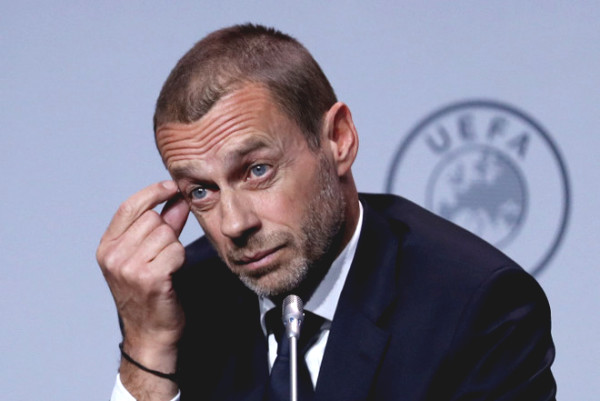 UEFA president, Ceferin support schemes started the new season in September
However, everything changed when UEFA EURO switches to 2021 and other leagues are still in pending status. This not only affects the 2019/20 season, but the season 2020/21.
According to the newspaper The Sun, UEFA president Aleksander Ceferin will all soon confirmed supporters plan to start the season 2020/21 on July 12/9/2020 and hope the tournament will start simultaneously. This means that the Premiership will start later than one month from the previous season.
With the UEFA EURO has set began on 12/06/2021, the schedule next season in the Premier League will be very difficult. "We anticipate that next season would be difficult because the Premier League take place within 34 weeks, arrange the schedule will be a problem". A member of the organizing committee revealed.
Not the difficulty in domestic fixtures, the club in the Premier League was at risk of another. According to the latest report from the federation through South America, they are scheduled to start in 2022 World Cup qualifier on June 4/9.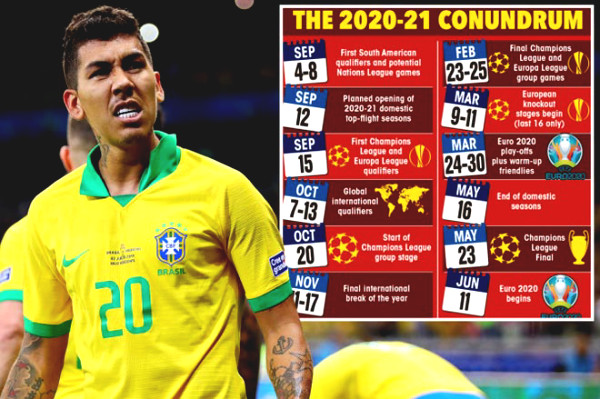 The South American players playing in Europe will face the dense schedule
This means that the South American players as Firmino, Alisson (Liverpool), Aguero (Manchester City) will be absent during the last week before the new season starts for national team duty. Such groups want to lose pillars in sprint stage to prepare for the season. Is it a struggle of interests between clubs and the national team or not? This is quite difficult because CONMEBOL selected time in FIFA's history.
Compared to South America, UEFA "generous" than when President Ceferin not intend to organize matches of UEFA Nation League in September but will match offset in month 10 and 11 (kick 3 games instead because as usual 2). Champions League group stage will also start later than one month.
However, this is also "joy before suffering after" by a dense rock density so will increase the risk of injury to the players. "FIFA Virus" has always been an obsession of the top clubs in Europe in every occasion the national team focused game. This will be a problem not only of the Premiership, but also the top European leagues such as La Liga, Serie A.