Chelsea are the most frantic shopping club in the Premier League. After Hakim Ziyech and Timo Werner, Stamford Bridge team has successfully recruited Ben Chillwell from Leicester City for 50 million pounds. President Abramovich is clearly showing ambition back the championship race immediately Premiership this season.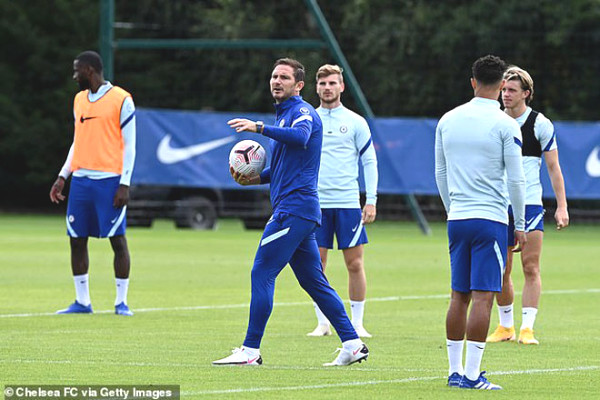 Lampard coach when Chelsea welcome news back in training
However, the good news, the bad news has just come rushing back as well. According to the Daily Mail reported, Chelsea confirmed some infected players Covid-19 after returning from vacation. Currently, players are being quarantined until cured.
The source of The Sun (UK) reported that four Chelsea players are isolated as Mount Mason, Tammy Abraham, Christian Pulisic and Fikayo Tomori. The quartet get together for a common resort locations, Mykonos (Greece). This is also where Harry Maguire (MU) is in trouble for attacking local police.
Chelsea though not announced the names of players stick Covid-19 but according to The Sun newspaper, no one else's, "The Blues" was distancing 4 players above. This is considered a worrisome information to prepare plans for the new season of Frank Lampard.
Pulisic, Abraham, Tomori (pictured) and Mount are quarantined due to suspected Covid-19
Premier League with only 16 days left before the start and, if in accordance with regulations, this hardly four players attended the first match Premiership. The trio Mount Abraham, Pulisic are key players in the Chelsea squad last season while Tomori also frequently came off the bench until an injury late last year.
Data 3 new signings have enough to fill the gap temporarily by 4 players leave? That is a question that needs an answer. Chelsea are "bite" with Covid-19 when this team was also the first British club with Premiership players when outbreaks of infection (Hudson-Odoi Callum).
According to the British press, the British team was recorded 14 cases Covid-19 from 12 different clubs since last week in the course of preparing for the season. This figure could rise as some of the team has not yet returned to training. Typically MU, Maguire also likely to be quarantined for 14 days while returning from Greece while Aaron Wan-Bissaka still in Dubai.