The contradictions between Lionel Messi and Josep Maria Bartomeu President is extremely tense. The peak of the incident is that the Argentine superstar immediately demanded to leave Barcelona this summer.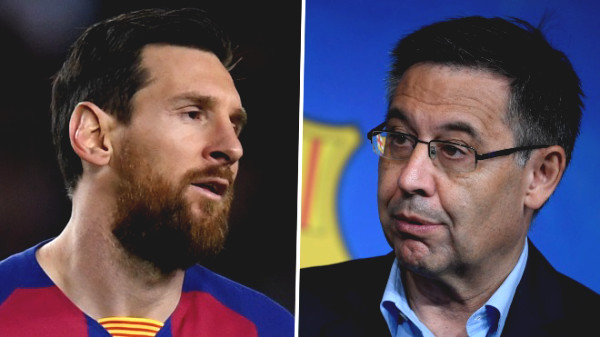 Messi contradict President Bartomeu
There have been many theories put forward to explain the decision of the player to win the Golden Ball 6. Among them defeat Bayern Munich 2-8 in the Champions League before, disagreements with the new head coach Koeman, or even how to treat "dry sex" with Luis Suarez friend of the club ...
But according Givemesports said the most important reason that want to break up Barcelona M10 is because no longer believe in the plan of the head of the team, Josep Maria Bartomeu. President of the Blaugrana were rated as weak in terms of management, did not dare to take responsibility and development-oriented clubs in the wrong direction.
Specifically, since the 2014/15 treble season, how to build a team Barcelona that Messi really be disappointed. According to statistics, the Barcelona safes substantially hollow after burning about 758 million euros paid out to 16 players, most of them do not meet expectations, do not leave a mark, or have left the club.
Even the deal as Turan, Andre Gomes, Paulinho and Malcom makes people doubt Barcelona's transfer policy. Meanwhile, the name that is most expected Messi Neymar leadership were not implemented.
With the development strategy as last time under President Bartomeu, the claim that Messi frustrated farewell from Barca is understandable. However, the latest reports the Spanish press revealed Messi will be forced to stay in Barcelona until the end of 2020/21 season because the terms are hard to break.
16 deal "spray bombs" that Messi leaving Barcelona determined: