Movements between RB Leipzig Match and Atletico Madrid
Quarterfinals second UEFA Champions League 2019/20 is the confrontation between Atletico Madrid and RB Leipzig. Representatives from Spain to be appreciated more often caught deep in the playground Cup C1 while Julian Nagelsmann teachers and students are considered "dark horse" of the tournament.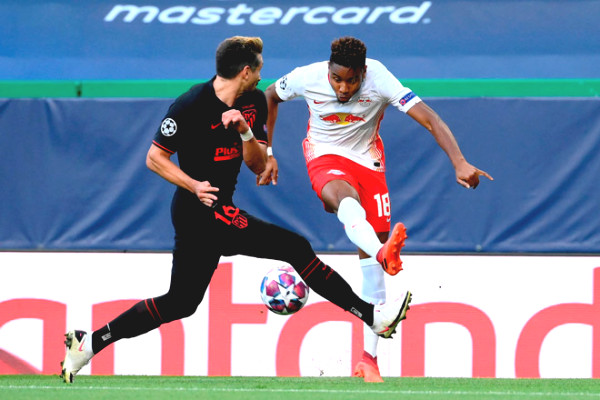 The two teams have created a very attractive match
The two teams start the match with high speed uplink ball and Atletico Madrid had a few dangerous situations, but definitely not the next goal. Gradually, the representative of Spain to play deeper, defense RB Leipzig should definitely create more opportunities. However, opportunities have passed the toe of the striker coming from both sides.
Into the second half, the match suddenly became jubilant after the opening goal of Dani Olmo. Spain midfielder had a header shot came after accurate cross from teammate Laimer. Diego Simeone this time launching new cards in the field Joao Felix immediate effect.
After 70 minutes, the Portuguese striker prosecuted illegally interfere in the penalty area and Joao Felix successfully implemented 11m kick to tie the game. This goal helped Atletico Madrid to become more excited and they rise lineup rivals attempt to finish within 90 minutes. However, the representative of Spain was unscathed "in commercial code" hurt.
From a counterattack after 88 minutes, substitute player Adams had a goal when the ball hit the foot lucky Savic makes changing direction goalkeeper Oblak not able to respond. The remaining minutes, Atletico Madrid play every hand to find equalizer but failed. With this result, RB Leipzig suddenly appeared in the Champions League semi-final and their opponents is PSG.
The score of the game: RB Leipzig 2-1 Atletico Madrid (H1: 0-0)
Scored
RB Leipzig: Olmo 51 ', Adams 88'
Atletico Madrid: Joao Felix 71 '(penalty)
Lineup
RB Leipzig: Gulasi, Angelino, Klostermann, Upamecano, Halstenberg, Laimer, Kampl, Sabitzer, Olmo, Poulsen, Nkuku
Atletico Madrid: Oblak, Trippier, Savic, Gimenez, Lodi, Carrasco, Saul, Herrera, Koke, Costa, Llorente
Statistics Match
Scoring player