Bayern Munich travel to Lokomotiv Moscow in the second round had C1 Cup group stage 2020/21 season. Coach Hansi Flick welcomes the return of Serge Gnabry but still decided to use Muller and Coman corridor on either side of the wing. Meanwhile, the home team launched the strongest team possible.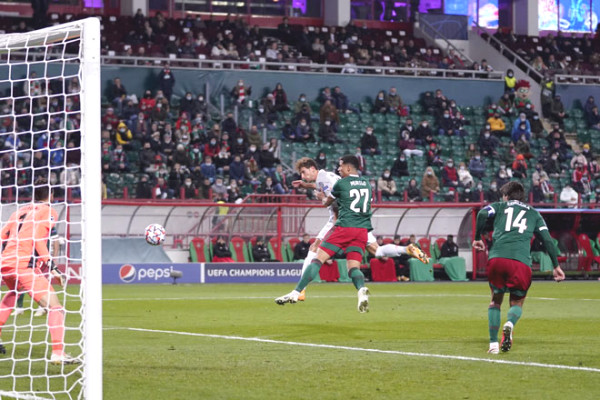 Goretzka opened the scoring with a header
Lokomotiv Moscow team have first clear chance in the second minute but immediately re Smolov top judge too light. Just then, Bayern Munich have the answer with Lewandowski's shot but the ball hit the goal has not yet come. After 13 minutes, Tolisso open for Pavard ball right cross to the defender came through a header Goretzka opener.
A few minutes later, a similar situation happening again but this time Coman's finish wide of the goal hit the right post. The next minute, both teams had chances but did not take advantage. Into the second half, the ball was tit for tat continues and the visitors were the more dangerous chances.
Kimmich miss the chance to reach the ball despite being flipped, stripped Lewandowski penalty with the intervention of the VAR and no keeper Coman home team. After this situation, Lokomotiv Moscow suddenly rise up and they have a goal, tying him with 70 minutes to blow up the ice on the rocks Miranchuk ultrafast connections.
But the joy of the home team did not last long. 79 minutes, pick the ball from Martinez Kimmich and twisted claw the ball always. The ball goes into the net in the surprise of goalkeeper Guilherme. Final, Bayern Munich win 2-1 Lokomotiv Moscow.
Aggregate score: Lokomotiv Moscow 1-2 Bayern Munich (H1: 0-1)
Scored
Lokomotiv Moscow: Miranchuk 70 '
Bayern Munich: Goretzka 13 ', Kimmich 79'
Lineup
Lokomotiv Moscow: Guilherme, Rybus, Murilo, Corluka, Zhivoglyadov, Ignatev, Kulikov, Miranchuk, Krychowiak, Smolov, Ze Luis
Bayern Munich: Neuer, Pavard, Sule, Alaba, Hernandez, Kimmich, Goretzka, Muller, Tolisso, Coman, Lewandowski.