The draw for the Champions League 2020/21 group stage ended with many surprises. Bayern Munich against Atletico Madrid, Barcelona against Juventus while MU falls on the league table for the most difficult with the arrival of three other teams as PSG, RB Leipzig and Basaksehir.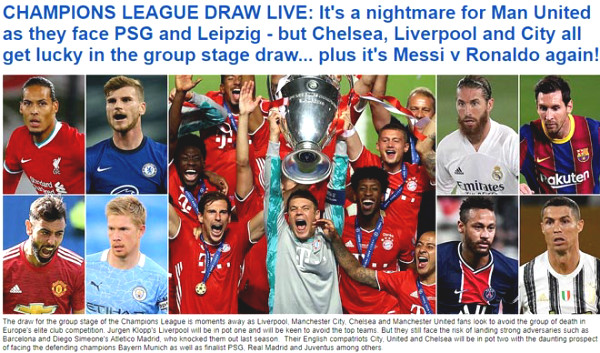 Daily Mail says United have met "nightmare" after the UEFA Cup ceremony C1
These are the real team should force MU will face huge competition. Writer of the Daily Mail Salt Nathan did for Manchester United having "nightmares" in the title of the article. "It is a nightmare for United when PSG met since the group stage, while Chelsea, Liverpool and Manchester City are lucky in the draw. Together with that, Ronaldo reunion Messi ".
In the article, Nathan Salt commented: "Ole Gunnar Solskjear same game is unlikely to be welcomed back to the playground when the highest in Europe. They will have to confront the team reached the semifinals last season, along with RB Leipzig travel to Turkey to fight with Basaksehir ".
Solskjaer also has committer on the PSG when he and Manchester United knocked out of cup C1 Paris ball courts at the Prince Park 2 years ago to monitor utopian comeback. Rashford winning tickets go on for "Reds" then right on penalties in the last minute of injury time of the match.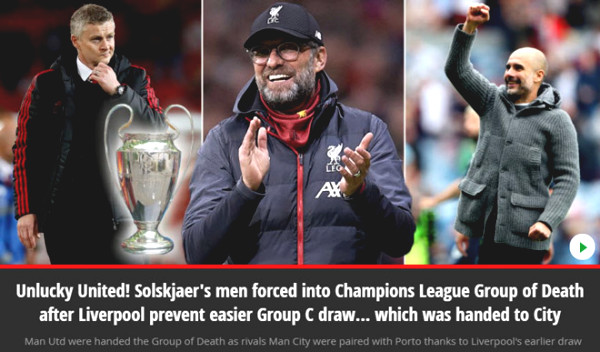 Worry for United was the whole point of the British press when writing about the Champions League draw
Rich Jones of The Mirror, the more frank with the article title: "MU unlucky! They fall into the league 'death' while Liverpool have their group easily while Manchester City is not the opponent that interferes well". Niall McVeigh's also softer Guardian as saying only that MU fell into the "difficult".
Marca referred to the draw as "blockbuster" Messi and Ronaldo when it met for the first time since 2018
Meanwhile, Spain's Marca newspaper called "blockbuster draw, Messi - Ronaldo reunion". Hugo Cezero writer commented: "Blockbuster draw gave Juventus Ronaldo and Barcelona's Messi in the same league.
Two European rulers for over a decade has been "dethroned" last season when not fall into any award nominations for any individual. Of course, both want to prove last season was an accident so this race will be very interesting. "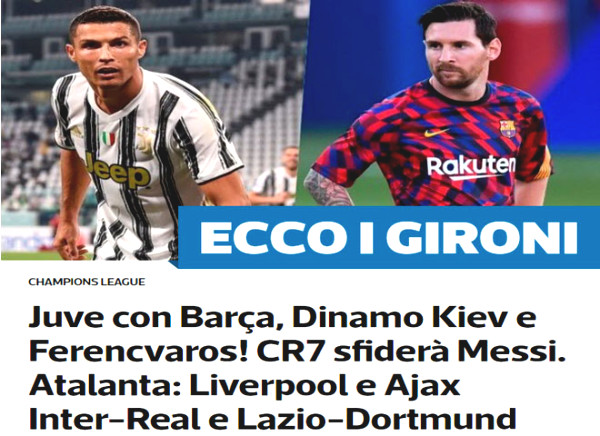 Italian newspaper Tuttosport also made between Ronaldo and Messi battle on the article title
General opinion is James Westwood in The Goal. This writer used the word "heavyweight" - "weight class" is often used in martial arts to von confrontation Messi & Ronaldo. "The two men won 11 of 12 titles" Golden Ball "closest had confrontations in La Liga history and will write the story in the highest leagues of Europe next month."
This is the first time Messi Ronaldo met in an official tournament since leaving Real Madrid in the summer of 2018.