Bayern Munich won the 2019/20 Champions League after overcoming PSG in the final. Who scored the only goal of the game is Kingsley Coman. In the morning of 24/8, "Bayern" moved to Germany the trophy.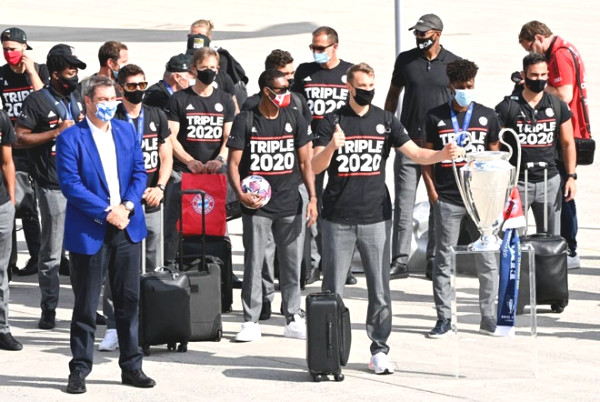 Bayern Munich back to Germany immediately after Champions League
A question arises Bayern Munich will receive many bonuses after the Coronation Cup C1? Remember, the home side have won Allianz Arena in this tournament (11 games), the number of bonuses from tournament organizers certainly not small.
According to the announcement by UEFA at the start of the tournament (June 9/2019), the Champions League will be spent 1.95 billion euros from the first round and divided into four parts. 25% for the allocation of the reserve (484 million euros), a 30% bonus for-performance (585 million euros), a 30% bonus by a factor of achievement of 10 years of national tournament (585 million euros) and 15% bonus according to TV rights (292 million euros).
In the reserve allocation, Bayern Munich will receive 15.25 million euros like 31 other teams. In accordance with performance bonuses, "Bayern" will receive 2.7 million euros for a win - that is the total amount received was 29.7 million euros.
With the achievement of Champions League, Bayern Munich received 51 million euro bonus
Besides, Bayern Munich will receive a total of 51 million euros in bonuses when Champions League and 3.5 million euros due to reach the match in the European Super Cup (UEFA Super Cup). Germany thanks to the achievements of the best European in 10 years to "Bayern" also receive 32.5 million euros bonus under national coefficient.
Total prize money of Bayern Munich, who had amounted to 131.95 million euros. In addition, this team also received a bonus from television rights is based on the 5 elements. According to the Daily Mail reported that the television rights money Bayern Munich in the Champions League 2018/19 only 12.5 million euros, 14.62 million euros less than the opponent in the finals this season as PSG. However, this year's figure is still unknown.
Currently, PSG receive less prize money of about 19.136 million euros Bayern Munich by losing in the finals and have less competition achievements (8 wins, 1 draw and 2 lost).