2020 became a bad year of Barcelona. Catalunya team 2 times to replace the coach, lost the La Liga championship, lost to the Champions League, Lionel Messi asked to go, chasing Luis Suarez, starting the season quite badly, losing super classic, chairman Resigning and facing the risk of bankruptcy.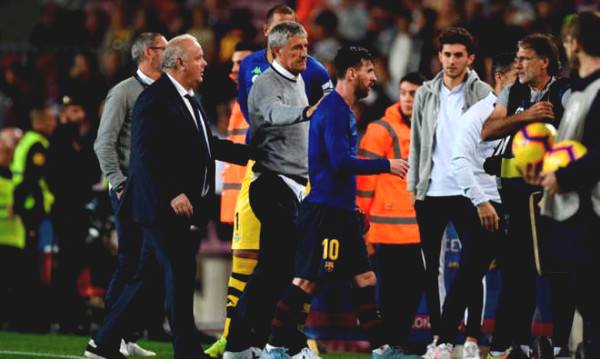 Coach Setien admits very difficult to manage Messi
Coach Quique Setien replaced Ernesto Valverde earlier this year but was fired after only 6 months after the Champions League disaster. In an interview with former Vicente del Bosque coach on El Pais, Setien had shared his time in Barca. He said Messi was the best player of all time, but his position made Barca's head coach had difficulty.
Coach Setien told El Paris: "I think Messi is the best player of all time. There are other great players, but the continuous stability that the boy has been over the years, no one has ".
But the left side that the player is best evaluated in this history brings great. Coach Setien admitted: "Messi is difficult to manage. Who am I that asking for changing him? They (leadership and Barca fans) have accepted him so for years and didn't change anything. There is a different aspect than professional and more difficult to manage ".
Coach Quique Setien admits that Lionel Messi always knows the authority at Nou Camp. "It is inherent in many athletes, can be seen in Michael Jordan's documentary (The Last Dance). You will see things you don't expect. Messi is very discreet but he makes you see what he wants. He doesn't need to say much to do anything. "