Bayern Munich held the top of Table A at quite early but still launched some of the main stone pillars in the starting lineup like Neuer, Boatang, Alphoso Davies and Thomas Muller. And they got a result like Italy despite playing quite ungainly in the first half.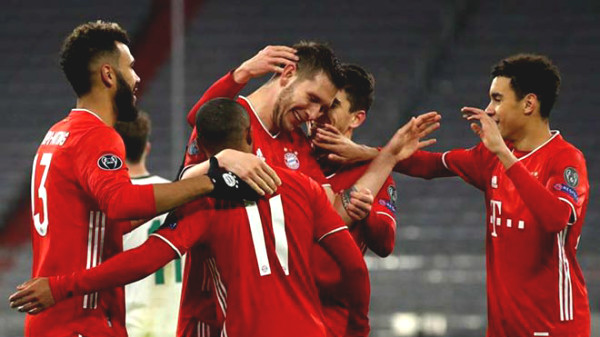 Bayern widened 2-0 to own unbeaten achievements in the group stage
Bayern controlled the ball to 69% but only hit the target once in the first half of 30 minutes when Douglas Costa attacked and kicked the ball directly into the goalkeeper. Maciej Rybus and Francois Kamano have 2 opportunities to score Lokomotiv, while Thomas Muller on the Bayern side has a shot to miss the vertical column.
Serge Gnabry was released on the courtyard and almost helped to create a goal to open a goal, but Sule broke his headed after the corner of Gnabry to bring the ball straight into Guilherme goalkeeper. This Brazilian goalkeeper then refused to a finish of Chupo-Motion, before his bravely poured the rescue right in front of Gnabry's feet in the 57th minute.
However, the 63 Sule opened the score for Bayern, a corner of Douglas Costa with a headed header. By the 80th minute, Choupo-Motion fixed the victory for Bayern after welcoming the pass of Gnabry.
Match score: Bayern Munich 2-0 Lokomotiv Moscow (1: 0-0).
Score: Sule 63 ', Chupo-Motion 80'
Departure team:
Bayern Munich: Manuel Neuer; Bouna Sarr, Jerome Boateng, Niklas Sule, Alphonso Davies; Leon Goretzka, Marc Roca; Leroy Sane, Thomas Muller, Douglas Costa; Eric Maxim Chupo-Motion.
Lokomotiv Moscow: GuilHerme; Dmitry Zhivoglyadov, Vedran Corluka, Slobodan Rajkovic, Maciej Rybus; Dmitri Rybchinsky, Vladislav Ignatjev, Stanislav Magkeev, Anton Miranchuk, Francois Kamano; Eder.