After parting Neymar, the team of Barcelona scouts continued presence in Brazil to identify future stars for the Camp Nou side.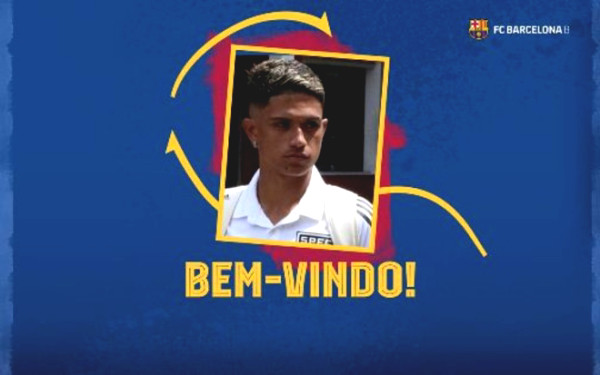 Home Barcelona notification successfully recruit Gustavo Maia
Spanish media revealed that Barcelona who spent 1 million euros "deposit" to buy young players of Sao Paulo Gustavo Maia. And the latest in, the Camp Nou gave 3.5 million euros Brazilian striker buyout in the contract with a term until 2025.
On the homepage, Barcelona announced completion of all procedures and quickly priced in terms of breaking the contract up to 300 million euros.
After losing Neymar on hand PSG 3 years ago, it seems that Barcelona were very careful to keep the young star. The giant self prices for Maia showed the upper world of the team appreciate the potential of this player to some extent.
From the age of 14, Gustavo joined Sao Paulo and after 3 trial, he was admitted to the club's academy. Here, recruits Barcelona constant "fire" and won seven titles at every level. Most important season of Maia was in 2018, when he scored 30 goals in 36 matches.
At the national level, the striker born in 2001 as a member of the U16 and U17 national team of Brazil. This player is arranged regularly play on the left flank, though right-footed. Even after breaking into the first team, Gustavo still playing for the youth team of Sao Paulo. He impressed by the powerful distance shot and good dribbling ability.
Gustavo is the second player in the match moved to La Liga this season from Sao Paulo. Earlier, Reinier plays for Real Madrid in the winter transfer window for a fee of 35 million euros.
This season, Barcelona face a financial crisis because of translation Covid-19. Leadership Camp Nou home side are aiming to rejuvenate the squad with many players from Barca B. pedestal
Up to now, most notably the deal Barca sell Arthur Melo to Juventus, Miralem Pjanic took the opposite direction and took 12 million euro profit.