Internal Barcelona are very tense wait for the meeting between the two characters is considered the most powerful in the Nou Camp, which is superstar Lionel Messi and Barcelona president, Josep Bartomeu him. This meeting is being forecast could cause subsequent conflict between the two sides, while its content will involve the adjustment of the salary of the Argentine star.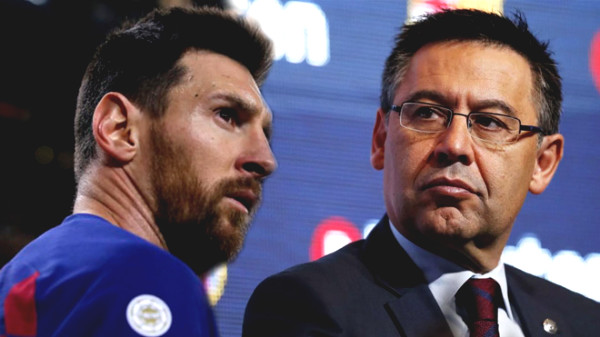 Messi prepares for the next confrontation with the president Bartomeu
Messi's future was assured at least in the next season with Barcelona striker 33 decided at the Nou Camp for 1 year. However, the relationship between the striker and the president Bartomeu never heal, especially when Messi insists Barca will not be revived under the reign of this leader.
Since the decision to stay, Messi does not want to contact or receive more information about Bartomeu again. However, in the next few days, Bartomeu will meet directly with Messi and with the aim of proposed wage cuts, contradictions can be pushed up to a climax.
According to the Spanish press, the end of the fiscal year 2019/20 season, Barca have lost 98 million euros. With the effects of the disease Covid-19, Origin team Catalunya each proposal the players 70% salary reduction. However, it can not definitively settle the issue of outstanding debts at the moment.
Known, Messi will be the representative for the entire first team players sit to work with the president Bartomeu to negotiate wage reduction process the whole team. Though the decline has not been uniform, but according to internal sources, the number being adjusted will not exceed 20%.
Barca waves coming back for new conflict?
Plans to cut salaries of the stars highest paid team 1 has also been taken into account, as salary costs that Barcelona for Messi was 70 million euros / year before tax, classified as soon as Antoine Griezmann with 43 million euros / year. The extremely large numbers also do not include bonuses and image rights. Therefore, the star duo this attack are the players most disadvantaged if president Bartomeu not accept concessions.
Clearly, in the context of the new season of La Liga is preparing to come back, this will be an unhappy information is for the Barca star. Also, the upcoming meeting will likely deepen the conflict between the two most powerful men in the Nou Camp this time.