Only yesterday - 23/9, instant Barcelona parted with 2 players in the squad. Luis Suarez to sign the Camp Nou decided to liquidate the contract, then officially joined the rival Atletico. Earlier, Nelson Semedo joined Wolves for a fee of 40 million euros.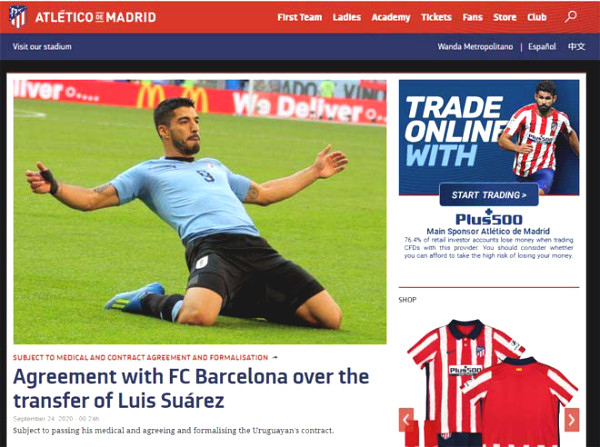 Suarez joined Atletico official
This summer 2020 witnessed the separation of a series of pillars Barcelona. Before Suarez and Semedo, the Camp Nou has to Arturo Vidal and Ivan Rakitic to leave. Sooner, Arthur Melo to Juventus, while Arda is free to join Galatasaray.
With the departure of 10 players listed above, Barca earned € 130 million, according to the Wikipedia. In stark contrast, Origin team Catalunya just spent 103 million euros to buy back 4 players including Pedri, Miralem Pjanic, Matheus Fernandes and Francisco Trincao young talent.
Easy to realize one thing: The player to leave Barcelona in the summer of 2020 the majority of the players are enjoying very high salaries. According to Marca, Luis Suarez salary in the final year of a contract with Barca was 22 million euros, the third highest in the Nou Camp.
2019/20 season, before joining the salary of Ivan Rakitic Sevilla is 13 million euros. Similar numbers of Arturo Vidal was 9 million euros. Arthur Melo remuneration received 5 million euros before to Juventus. Nelson Semedo was 3.5 million euros, or 4 million euros Cucurella Marc ...
Thus, the departure of 10 players helped Barcelona to save about 60 million euros in wages in 2020/21 season. Among four new players to Barca, 3 are in the form of potential, while Pjanic also in the final stages of his career. Therefore, their salaries will be much lower than Suarez, Rakitic, or Arthur Vidal ...
But the purge of Barcelona promises continue. Ousmane Dembele, who was awarded 12 million euro salary / season, Liverpool are involved in the loan deal included buyout clause. If Liverpool pay full salaries to Dembele, Barca will make concessions on charges borrow.
Similarly, Samuel Umtiti Barca ready to go once the partners have paid a reasonable price, by the French midfielder is enjoying similar remuneration Dembele. Goalkeeper Neto, just start with 5 games for Barca last season but paid 4 million euros / season, also located in the area to go.
To pay for Messi, Barca have to sacrifice many pillars as Rakitic, Suarez or Vidal
In recent years, become a burden salary fund of Barcelona. According to AS, the Camp Nou to pay 565 million euros for the players wages, equivalent to 62% of revenue. Meanwhile, UEFA (UEFA) do not allow the clubs salary fund exceeds 70% of revenue.
And the main reason that Barcelona ballooning wage bill, none other than Lionel Messi. Argentine superstar alone is 70 million euro salary / season, which is more than total payroll that 10 players to break up Barca just combined.
Na little, if Barcelona Lionel Messi approved to go in the summer fair in 2020 at the request of the player, the remaining 10 can be sustained their future with the Camp Nou side.
But once President Josep Bartomeu determined to keep Messi, he has anticipated what I need to do in the days after. According to some sources, the head of Barcelona plans to wage cuts of up to 100 million euros 1 team, but Messi can be preserved.