Balotelli's performances in Serie A 2019/20
Late last week, the Italian press there is information on Mario Balotelli has been managing the club Brescia cutting contract for undisciplined behavior. The contract was signed between the two sides since the beginning of the season 2019/20 with a term to 2023. Reportedly, the striker born in 1990 absent 10 consecutive training session for health reasons, even sent to board train practicing certificate was gastroenteritis.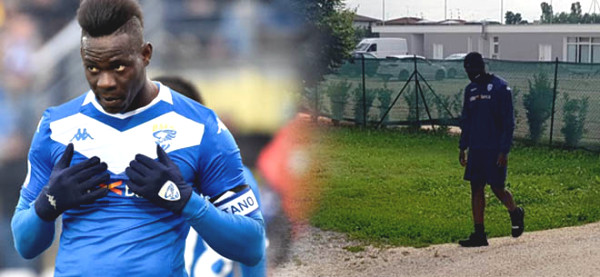 Brescia decided "break ties" with Balotelli for undisciplined behavior
Thursday 9/6, Baltelli seem to want remorse expressed by the training center of Brescia Torbole Casaglia hoping to be involved with the team workouts. However, "bad boy" club staff immediately blocked the door and right out the back the lease. Before leaving, he did not forget to let sarcasm current club to the press: "Now they will say that I hid set for that view." This incident proves more information Brescia Balotelli fired is accurate.
After the Italian government allowed back into Serie A 2019/20 20/6, the team began massing and to ensure the safety of the post-Covid-19, players must present a valid medical certificate new was in the training center. According to La Gazzetta dello Sport, Balotelli papers invalid because there is no confirmation from Brescia mark. Before that first day, "bad boy" please email the club confirmed but too late and not being solved.
Brescia are facing relegation, won only 16 points / 26 games (ranked bottom in Serie A), though still determined to break ties with the club's top scorer (5 goals scored this season Balotelli). Some sources claim that the cause Balotelli quit practicing because of irreconcilable conflict with club president Massimo Cellino.
Balotelli was the leading young talents in Europe with impressive performances at Inter Milan, even received the "Golden Boy" in 2010. However eccentric personality, habits undisciplined gradually made him rusty, not can withstand a club too long (8 clubs were draped in his career).