Bayern Munich operates to Wanda Metropolitano in the context that they have robberly overcome the Champions League round with the leading position Table A. Therefore coach Hansi Flick only launched with the lineup including many young players combined with these The star regularly reserves this season. In contrast, coach Diego Simeone had to launch the strongest squad to win.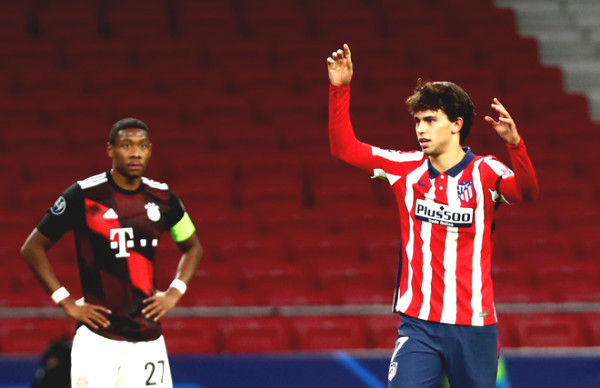 Joao Felix opens the score for Atletico Madrid
With the advantage of the higher-minded home yard, Atletico Madrid entered quite actively and continuously threatened Bayern Munich's goal. After many chances of creation, 26 minutes into the minute Joao Felix cut the decision to open the match score. This is also the only goal in the first 45 minutes.
Entering the second half, Atletico Madrid actively played with a low squad to protect the results. However, the squad consists of many young players and no motivation of Bayern Munich without many remarkable attacks. The situation was not improved even when the two Gnabry and Muller pillars were released.
In such a tedious game, Atletico Madrid still couldn't retain 3 points. 85 minutes, Felipe midfielder foul against Muller in the penalty area. On a penalty spot, the German striker easily defeated Oblak goalkeeper to bring about 1 point for Bayern Munich.
This draw caused Atletico Madrid at risk of being eliminated even ranked 2nd Table A with 6 points. Salzburg is ranked 3rd but only in their 2 points and the two teams will meet in the final match. If it fails, coach Simeone's army will have to be excluded from the Champions League this season.
Final ratio: Atletico Madrid 1-1 Bayern Munich
Scored:
Atletico Madrid: Joao Felix 26 '
Bayern Munich: Muller 86 '
Departure team:
Atletico Madrid: Oblak; Trippier, Savic, Gimenez, Hermoso; Llorente, Saul, Koke, Carrasco; Correa, Felix.
Bayern Munich: Nubel, SARR, Sule, Arrey-Mbi, Hernandez; Alaba, Martinez; Sane, Musiala, Douglas Costa; Chupo-moting.