In the final minutes of the 1st half of the match between Manchester City and Burnley striker Aguero had a collision with Ben Mee Burnley midfielder within 16m50. From the road broke Zinchenko, Mee has a nasty blow from behind with Aguero is Argentine striker made the pitch shortly after.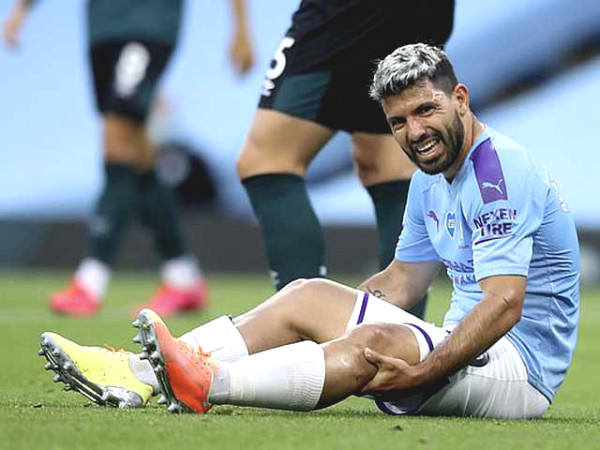 Aguero was at issue in left knee
Manchester City striker takes a few minutes to move off the pitch limping and was replaced by Gabriel Jesus inning 2. Then, Man City were awarded a 11m and Mahrez successfully implemented, contributed to the victory with strong the home side 5-0. However, coach Pep Guardiola is concerned Aguero could miss the rest of the season because of injury.
Initial tests showed that Aguero continued to experience problems with his knee. Since Man City back episodes, Aguero still having a minor injury in his left knee and in the game yesterday, the pain of relapse after Aguero's nasty blow Mee. Today, Aguero will be tested this pain at the Manchester City training ground.
According to the preliminary remarks of Guardiola, Aguero likely will be out a few weeks, including the FA Cup quarter-final with Newcastle. "It does not look alright," Pep said. "He feels there is something wrong, but really does not look right for the rest of this season. Team doctors said the injury will take time. Firstly a few games, hope the test will get good news. "
From Argentina, Aguero's father, Leonel del Castillo his, son revealed damaged meniscus. "Meniscal Sergio hurt from the past few weeks. Tomorrow, they will MRI to determine the severity. I believe later on Thursday or Friday this week, Manchester City will take the son my surgery to Barcelona, ​​"he told La Red radio station.
English Premier League this season will end on 26/7, and Man City will confront Real Madrid in the return leg of the Champions League in 2 1/8 weeks. In case Aguero could not keep back, Pep Gabriel Jesus may be using to fill this position, or use Raheem Sterling, Kevin De Bruyne and Bernardo Silva to the position "9 Virtual".
City's fun day will probably be fuller if Aguero does not encounter this injury. Before leaving the field, Aguero not scored for Manchester City. But the 20-year-old Phil Foden demand offset by contributing a brace. Talking about performances of Foden, Pep made many attempts for this player.
"We have a young fans of Manchester City here, whenever people are playing super cool courtyard. When David Silva says that this is the last year of him, we know where it will be left to Phil. In the next 15 years, he will become more prominent, "said Pep.
Besides, strategist Spaniard also plans to use Foden runs left in the position where Leroy Sane is about to leave. Should know, Foden once crowned the U17 World Cup in England when playing at right wing role.