France Football, the organizers of the Golden D'OR prize (Ballon d'Or) decided to cancel this event in July because of concerns of the outbreak of the Covid-19 pandemic. However, this still does not prevent FIFAs from organizing the race for the "The Best" award 2020, honoring the best male and female players in the year.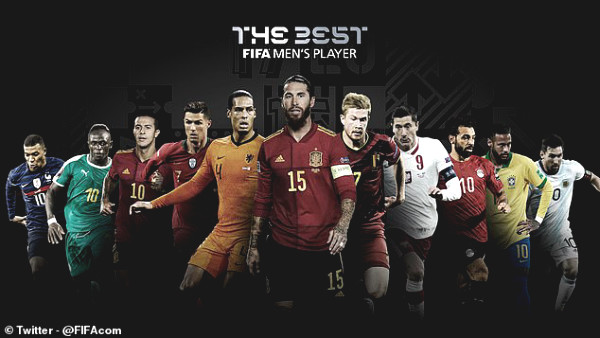 List of 11 stars nominated for Fifa The Best 2020
In the list of nominations 11 players selected by FIFA experts for this year, the duo Messi - Ronaldo is still in the next 4 stars of Liverpool, Sadio Mane, Mohamed Salah, Virgil Van Dijk and Thiago Alcantara . Two teammates in PSG are Kylian Mbappe and Neymar also named, the rest is Kevin de Bruyne, Robert Lewandowski and Sergio Ramos.
One of the most unfortunate absences in this year's race belonged to midfielder Joshua Kimmich, who contributed greatly to the Champions League championship of Bayern Munich's last season.
Messi and Ronaldo are still named in the list but the influence of these two players has been much low compared to the previous period. Currently Lewandowski is the name that is higher than the achievement of 55 goals in 47 matches last season. Besides, he and Bayern Munich completed the second "3" food in the club history in the last season.
Besides the award for male players, FIFA also nominated for female players, male goalkeeper, female goalkeeper, male football coach, female football coach, and beautiful Puskas goal. In the tournament for male football coach, Marcelo Bielsa suddenly contributed to Hansi Flick, Jurgen Klopp, Julen Lopetegui and Zinedine Zidane.
Liverpool has a member of the nomination list as Alisson Becker goalkeeper in the best male football goalkeeper 2020. Other names include Thibaut Courtois (Real Madrid), Manuel Neuer (Bayern Munich), Kylor Navas (PSG), Jan Oblak (Atletico Madrid) and Ter Stegen (Barcelona).
FIFA will announce the shortened list of 3 best male players on December 11. FIFA award ceremony will be held on December 17.